Dark Chocolate Salted Caramel Coconut Truffles (Vegan)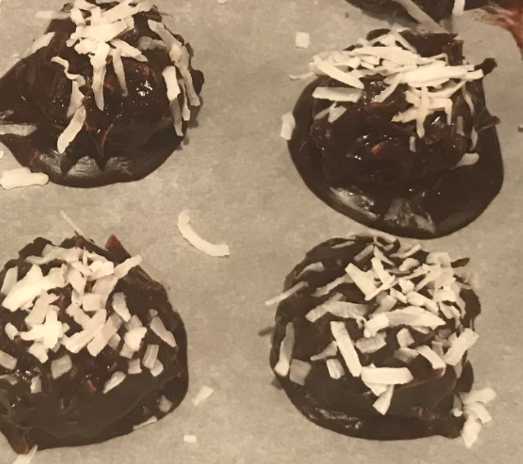 | | |
| --- | --- |
| | |
Combine first 6 ingredients in the food processor. Process until well blended and thick and chewy like caramel.

Remove from food processor and place in a covered bowl in the refrigerator for 2 - 3 hours until cool and firm.

Fill a small bowl with shredded coconut for dipping caramel.

Put remaining coconut oil, cocoa powder and maple syrup in a small saucepan.

Heat over low heat constantly stirring until oil is melted and ingredients are well combined.

Remove from heat and place in a small bowl for dipping.

Scoop caramel, one teaspoon at a time and roll in palms to form a small ball.

Roll in coconut and press lightly to get the coconut to stick. Use a toothpick to pick up the caramel and dip into chocolate, coating entire ball.

After coating, place each ball on a tray covered in parchment paper and sprinkle a small amount of coconut on top.

Once all caramel is used, place tray in refrigerator for several hours to chill and for chocolate to harden.

Store in refrigerator in a covered container for up to two weeks.