Curry Spiced Nut Granola-Gluten Free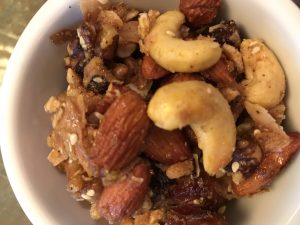 Preheat oven to 325 degrees F. Combine cashews, almonds, walnuts, coconut oil(melted), curry powder and salt in a medium bowl; stir to coat. Transfer to a large baking sheet and spread in an even layer. Bake for 8-10 minutes until lightly toasted.

Grease a 9-inch square baking pan with coconut oil and line with parchment paper making sure paper is not only on the bottom but also on the sides. Toss together toasted nuts, puffed rice, coconut chips, dates, almond meal and sesame seeds in a medium bowl. Add maple syrup and stir to coat. Transfer to the prepared pan and bake for 15-18 minutes at 325 degrees.

Take out of the oven and let cool. Transfer to an airtight container and enjoy!